Colin McGregor and Joyce Hughes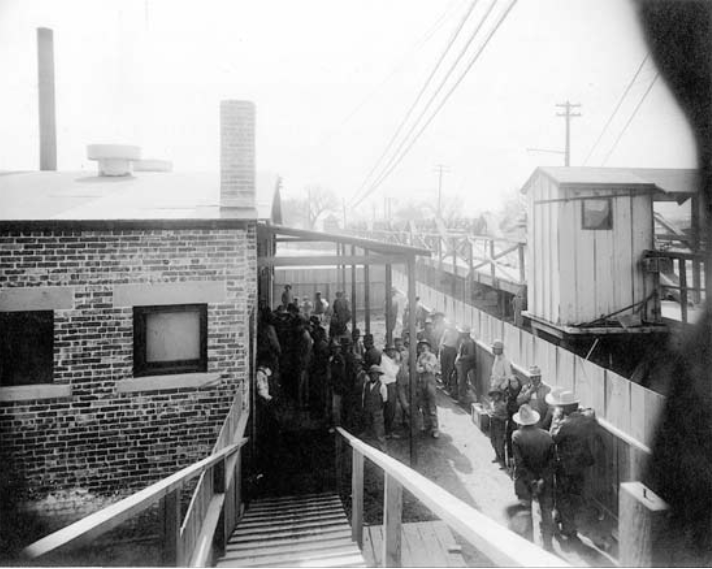 Mexican immigrants waiting to be disinfected on International Bridge in El Paso, Texas – 1917
Beginning in early 2020, the world was shaken and shut down by Covid-19, instilling the fear of disease at the forefront of everyone's lives. However, for many, this pandemic not only endangered lives through the threat of infection but also by racist narratives that arose alongside the virus. Racism mobilized by political leaders towards Asians in connection to Covid-19 resulted in a huge spike in hate crimes. Unfortunately, this is not the first time we've seen this happen. In order to understand the events that put the lives of Asian people in danger, we can reflect on medicalized racism endured by Mexican immigrants during the early 1900s to see how it impacted the ways they were treated by American institutions and within society. From this, we can compare the treatment, attitudes, and rhetoric spread in the past to those seen in more recent times.
Further readings
Chu, K. (2020). Collecting and archiving Asian-American stories during Covid-19. Museum of Chinese in America
Khanmalek, T. (2021). "Wild tongues can't be tamed": rumor, racialized sexuality, and the 1917 bath riots in the US-Mexico borderlands. Latino Studies
Mize, R. (2016). The invisble workers of the U.S.-Mexican Bracero program: obreros olvidados. Lexington Books
More than 9,000 Anti-Asian incidents have been reported since the pandemic began (2021). National Public Radio
Natalia, M. (2011). Borders, laborers, and racialized medicalization: Mexican immigration and US public health practices in the 20th Century. American Journal of Public Health 101, no. 6. 1024-1031.
Shah, N. (2001). Contagious divides: epidemics and race in San Francisco's Chinatown. University of California Press
Tessler, H., Choi, M., and Kao, G. (2020). The anxiety of being Asian American: hate crimes and negative biases during the Covid-19 pandemic. American Journal of Criminal Justice 45
Wang, F. (2022). How violence against Asian Americans has grown and how to stop it, according to activists. Public Broadcasting Service